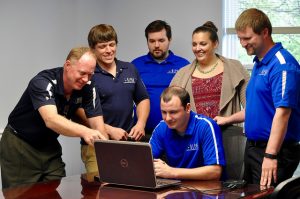 IT disasters are typically followed by response and recovery. In general, people provide a response when there is an emergency, while they perform a recovery operation in the wake of a disaster. An emergency usually does not require outside help, but a disaster often requires the assistance of others. Disaster preparations require recovery teams to be ready to coordinate and carry out a plan that will cope with certain events that negatively impact IT systems.
Developments in disaster recovery have continued to come rapidly in 2018. The majority of companies usually organize disaster recovery teams by choosing members who know how to get a company up and working again efficiently in the aftermath of a disaster. The most crucial task of any IT organization is maintaining business continuity.
When a disaster occurs, the handful of minutes immediately afterwards will be critical for every organization that wants to keep functioning. During this period, a disaster recovery team will have to cope with the resulting systems crashes.
Below are six emergency management and disaster recovery trends that have gained strength in 2018.
1) Cloud Data Recovery
Cloud data recovery systems are increasingly being deployed by disaster management teams. The majority of IT businesses are implementing cloud solutions, and those who aren't will probably do so in the near future because of its low CAPEX, reliability, and ability to scale. It is anticipated that cloud storage technology will eventually become the most important component of every company's disaster recovery program.
2) Data Storage & Replication
Data storage and replication are emerging as the best choices for any business that relies on its IT system to continue functioning. Experts predict that this development will keep on growing past 2018. Many IT managers consider data replication as the top solution for companies that want to handle disasters efficiently. In addition to providing greater efficiency for disaster recovery implementation, data replication is also cost-effective.
Part 2 will discuss Decreased Disaster Recovery Times, Internet of Things, Social Media, and Virtualization.
Alpha Engineering Business Support
Choosing an expert computer technology-support provider is an important decision for your business. Alpha Engineering Associates has been a trusted partner of many companies in the Washington, Baltimore and Annapolis areas since 1990. For affordable client-focused network consulting services and solutions, please call Alpha Engineering Associates today at (410) 295-9500.