Aft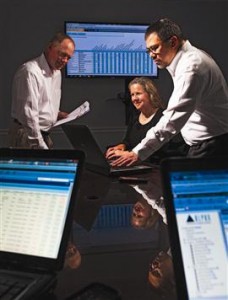 er your business has retained a managed services company, the first step is to have an assessment of your company's IT system. Providers often offer this service as complimentary or at a reasonable cost to their clients because it is the initial step of their relationship. A comprehensive assessment will give you an idea in what ways your firm's IT structure can be improved and how they can help fulfill business goals.
Systems Overview
A systems overview will cover the existing systems that are in place. Prior to contacting a managed IT services provider, take note of the questions below.
What is the existing server system?
What are the protocols for storage and backups?
What are your company's IT security measures?
The answers to the above questions will be important because they will help the managed services provider make a thorough assessment. Their evaluation will determine approaches for increasing efficiency by upgrading existing systems or installing new technology. At the end of the process of their proposal, there should be easier IT management, improved storage infrastructure, and greater flexibility for expansion to meet future needs.
Servicing & Security
An assessment will also determine the level of service that will be required by your IT system on a monthly basis. The training programs that will be needed for upgrade or new features for employees will also be laid out. If your business is especially concerned about security, the managed services provider will create a plan for ensuring effective IT security, proposing how the network and data will be secured.
Virtualization & Optimization
An important aspect of an assessment is discussing the virtualization and consolidation of servers. Your IT services provider should also have the skills and expertise that will allow your business to optimize its networking capabilities.
Alpha Engineering Business Support
Choosing an expert computer technology-support provider is an important decision for your business. Alpha Engineering Associates has been a trusted partner of many companies in the Washington, Baltimore and Annapolis areas since 1990 and offer:
24/7 Managed Services for Business Computing Systems
Network and Mobile Computing Support
Disaster Recovery Planning
Software Development
For affordable client-focused network consulting services and solutions, please call Alpha Engineering Associates today at (410) 295-9500.