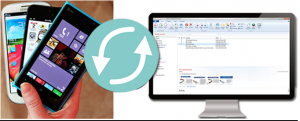 Networking for small businesses isn't only about meeting people and trading business cards. A small business network starts with building the foundation for a very reliable and secure data network that is speedy and easy to access so employees can work anywhere. This article will discuss six ways that will improve the network of your small business.
1) Access Data Easily
A secure network lets a small business enter data, perform updates, and review its database. Staff should be able to access the database via a desktop, laptop, smart phone, or tablet. Consistent and secure access to company data allows employees to provide better service to clients and customers.
2) Future Proofing
Implementing a well-designed small business network that provides both security and flexibility will facilitate the addition of new applications like voice and video efficiently and cost-effectively. Future proofing improves your company's ability to compete and add new services, facilitating growth.
3) Mobility Enhanced
Consolidating data, wireless, and voice on one secure network will create new benefits for your business. For example, staff will have the ability to be highly mobile because their smart phones will allow them to visit on-premise and remote areas and remain in touch and be able to access the company's databases. On business trips, employees can use their laptops and tablets to use the company's phone system as if they were in the office.
4) Network Management Streamlining
The consolidation of data, voice, and other apps into a single network will simplify network installation and management. One network will require less physical space, saving costs.
5) Optimize Communications
Building a secure network allows having a single inbox for email, voicemail, and faxes. One customer service number can be set to ring simultaneously on the devices of several employees, so an important client won't have to leave a message on voicemail. Video conferences can be organized with both staff and customers in remote locations.
6) Reduction of Costs
A study found combining modes of communication on one network will save about 46% in network costs.
Alpha Engineering Business Support
Choosing an expert computer technology-support provider is an important decision for your business. Alpha Engineering Associates has been a trusted partner of many companies in the Washington, Baltimore and Annapolis areas since 1990. For affordable client-focused network consulting services and solutions, please call Alpha Engineering Associates today at (410) 295-9500.