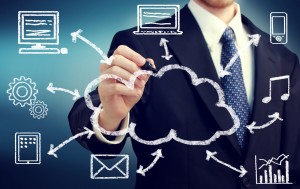 After a major natural or man-made disaster strikes, facilities are often destroyed or utilities are disrupted. Protecting your company's data will allow your business to return to normal and earn money as soon as possible. Preserving this precious resource should be a priority, and there are cloud backup solutions for every kind of business, from small to large. However, many business owners still have long-held misconceptions about the cloud that may prevent them from moving forward. The following two-part article will clear up misinformation and you will become more confident about using the cloud as an essential tool for your business.
Misconception 1: Cloud backup is too expensive.
Cloud backup solutions offer numerous options ranging in levels of services and corresponding prices. A small business should be able to find a service that is affordable. Choosing an established and highly reliable provider is perhaps the most important step. Whatever the plan you choose, implementing a cloud backup is worth the outlay because losing sensitive data and important documents will be far more expensive.
Misconception 2: Cloud storage and cloud backup are identical.
Although they seem the same, the differences between cloud backup and cloud storage are important to know. Cloud storage allows businesses to save and store data off-premises in the cloud that does not have to be accessed frequently. This will open up on-premise disk space for additional data that may be more current or crucial. Cloud backup saves files when they are re-versioned or automatically when synced as scheduled, and they must be accessible whenever needed.
Misconception 3: Cloud backup providers provide the same services.
Although they are numerous and seem to offer the same services, cloud backup providers often differ in several important ways. As a shopper, you will need to distinguish them feature by feature. Perhaps one has superior guaranteed uptime. Maybe another will offer more capacity. There may also be limitations as to the sizes of files that may be backed up.
Part 2 will discuss three more cloud backup misconceptions.
Alpha Engineering Business Support
Choosing an expert computer technology-support provider is an important decision for your business. Alpha Engineering Associates has been a trusted partner of many companies in the Washington, Baltimore and Annapolis areas since 1990 and offer:
24/7 Managed Services for Business Computing Systems
Network and Mobile Computing Support
Disaster Recovery Planning
Software Development
For affordable client-focused network consulting services and solutions, please call Alpha Engineering Associates today at (410) 295-9500.