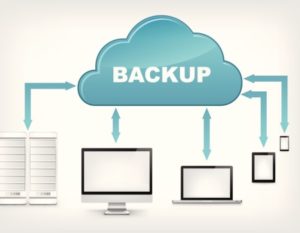 Backup, Disaster Recovery, and Archiving are not the same. Although there are solutions that are designed for a convergence of the three, a solution for one will not be adequate for the performance of the other two. The following will discuss these three data tasks and what your expectations should be for each. Consult with an experienced and expertly managed IT services provider for protecting your company's data.
Backup
The backup of data is designed to enable the recovery of lost or corrupted files or single operating system instances that have been corrupted. Scheduled backups usually occur every 24 hours. However, backups can occur every hour in settings that require continuous data protection. Data backup storage is typically on disk or tape and can be on or off premises. Data volume will determine how complex and time consuming a restore will be. A recovery point objective (RPO) can be as short as one hour. However, a recovery time objective (RTO) may last several days or weeks for a large volume of data.
Disaster Recovery (DR)
A DR solution is intended for the replication of an entire data environment in a secondary location with the objective of swiftly restoring it should there be a loss of service at the primary location. A RPO can be within seconds or minutes as data replication is almost continuous. Thus, a RTO may be as short as one hour for a large volume of data.
Archiving
A solution for archiving is designed for the retention of data for an extended period of time. This practice is primarily for regulatory compliance in industries like legal, medical and finance that require the preservation of records. The retention and indexing of all versions and copies of an e-mail, file, or document will be performed, enabling fast and convenient search and retrieval.
Conclusion
There should be no expectation that a solution for either DR or backup can perform archiving. Similarly, a disaster recovery solution will not be able to recover a corrupted or deleted file. Finally, it would not be wise to rely on an archiving solution to replicate your computing environment if your facility was destroyed by a man-made or natural disaster.
Alpha Engineering Business Support
Choosing an expert computer technology-support provider is an important decision for your business. Alpha Engineering Associates has been a trusted partner of many companies in the Washington, Baltimore and Annapolis areas since 1990. For affordable client-focused network consulting services and solutions, please call Alpha Engineering Associates today at (410) 295-9500.