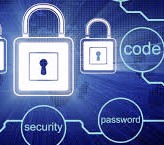 Nowadays hackers are breaking into computer systems to steal data to exploit for financial gain. The types of data they seek are financial records, personal information, and intellectual property. Your company's business data must be protected by securing its computers, network, and employee's mobile devices. This article discusses eight ways for securing your company's data. Consult with an expert IT support firm to obtain the best results.
1) Back Up
As Werner Vogels, the CTO of Amazon Web Services famously said, "Everything fails all the time." A company's business data must be backed up regularly or it will inevitably be lost.
2) Data Encryption
In the event company data is stolen, encryption will be the last line of defense for protection. If an employee were to lose or be robbed of a flash drive or portable hard drive, the data it contains will not be able to be read by a third party.
3) Improve Passwords
Sophisticated users now have software that runs through variations of common words to generate the correct password that will eventually break into a computer system. Using applications that create complex passwords for each employee will improve the strength of company passwords.
4) Mobile Device Protection
If your company has a sales team or staff members who work off-site, they will likely be using mobile devices that need to have their remote access to the company network secured.
5) Multilayer Security
Multilayer security will protect various aspects of a company's IT infrastructure from data breaches.
6) Security Audit
Conducting a security audit will allow a company to determine vulnerable areas and what data requires protection. Retain an experienced IT professional to audit your company's IT infrastructure, including all devices that have access.
7) Security Policy
Establishing a comprehensive, clear, and understandable company security policy regarding the protection of company data coupled with educating and training your employees is crucial.
8) Staff Education
It is very important to educate your staff regarding the crucial part they play in securing their company's data. Seminars will inform them how hackers use social engineering and malware to get access into company servers.
Alpha Engineering Business Support
Choosing an expert computer technology-support provider is an important decision for your business. Alpha Engineering Associates has been a trusted partner of many companies in the Washington, Baltimore and Annapolis areas since 1990. For affordable client-focused network consulting services and solutions, please call Alpha Engineering Associates today at (410) 295-9500.