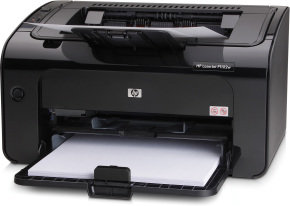 There are few things more frustrating than having to print out a document for work only to find out that your printer is offline and it is not functioning. Of course this happens as you're ready to run out the door to meet with your client. There are many reasons why a printer can go offline; they range from connectivity issues to a powered-down printer. Most of the time, you can bring the printer back online with a few clicks in Windows, but if not, there are additional troubleshooting steps you can take.
First, reboot your printer by shutting it off and turning it back on again. Give the unit a minute or two to finish booting.
Then, be sure to verify that the printer is plugged in to your computer and that is connected properly. If the printer is a networked unit, double-check the link light on the back of the printer to make sure it's flashing green.
Next, log on to your computer using an account that allows you to  manage your printer. Click the start button and then choose the correct printer.
Then right-click the printer and select See What's Printing to display the print from the proper window.
Next click Printer and select Use Printer Offline to remove the check mark. The printer should come online at this time. If this option is grayed out or if the printer does not come online, continue following the steps below.
Close the print spooler window and return to Devices and Printers.
Open a Web browser and download the latest driver for your printer from the manufacturer's website.
Follow the instructions that come with the driver to install it. If you still cannot bring the printer online, continue with the steps below.
Click the Start button and then click Control Panel.
Type troubleshooter in the Search box at the upper-right corner of the window. Click the Troubleshooting link when it appears in the main window.
Click Use a Printer under Hardware and Sound.
Then follow the on-screen instructions. The troubleshooter will attempt to identify and fix the issue. If it cannot, it will provide you with further guidance on addressing the problem.
For all of your computer networking needs including issues with your printer, contact or call Alpha Engineering Associates today at 410-295-9500.