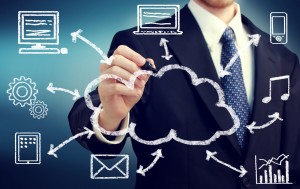 As mentioned in Part 1, managed IT services can encompass every aspect of network management or focus on a particular solution for data storage, backup, disaster recovery, analytics, or cyber security. Typically, a small company will request general IT services from a Managed Service Provider (MSP). Part 2 will discuss the main types of managed IT services.
Managed Cloud Services
Through managed cloud hosting, an enterprise may reserve cloud space that is managed completely by a host company, which can include data backup, OS/app management, database management, application stacks, and technical support. Managed cloud services provide cloud infrastructure that is scalable for a growing business.
Managed Data Analytics
A newer type of managed service, data analytics delivers data expertise to smaller companies. Experts can be retained to swiftly provide the latest technology that analyzes raw data, making it valuable and actionable. In contrast, developing a team in-house will cost both time and money.
Managed Network & Infrastructure
Created by a service provider, managed network or infrastructure can then be leased to an enterprise. A company would not have to build and operate its own data center or communication network that included voice, data, and video. The provider oversees all technical aspects.
Managed SaaS
Through SaaS (Software as a Service), a Managed Service Provider provides access to software, along with support and upgrades. Managed SaaS services allow an enterprise to retain a specific application for a fixed period when it becomes needed for a specific project or client.
Managed Security
Growing rapidly, managed security services can keep SMEs up to date regarding IT security. As a company's applications and data migrate to the cloud, they can oversee timely security upgrades, along with malware and ransomware prevention. These services can free enterprises from the burdens associated with security compliance.
Managed Support Services
The most commonly-provided service, managed support services feature tech support and help desk services, allowing an SME to forego a costly in-house IT department. Trained technicians are familiarized with their client's systems and made available for assistance when needed. Managed support is accessible by offering small businesses a way to choose a level of service that is affordable.
Alpha Engineering Business Support
Choosing an expert computer technology-support provider is an important decision for your business. Alpha Engineering Associates has been a trusted partner of many companies in the Washington, Baltimore and Annapolis areas since 1990. For affordable client-focused network consulting services and solutions, please call Alpha Engineering Associates today at (410) 295-9500.