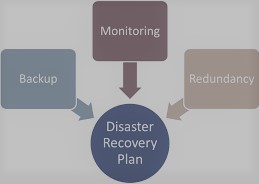 IT is an integral part of most every company in the 21st Century. Every business, large or small, now relies on computing in order to simply function. This is especially applicable to the dependence on data, the loss of which would be a significant, perhaps crippling, setback for a firm. A study found that data loss and downtime cost businesses around the world an astounding $1.7 trillion in 2014. The inability of a company to recover from a loss of data will likely be enough to result in its ultimate demise.
Even a small business should prepare for the worst circumstances in terms of its data. Disaster recovery, or DR, planning must be integrated into its standard operating procedures as a matter of precaution. However, doing so is not a simple matter. Consulting with an experienced IT expert is prudent in order to handle more complex aspects. Moreover, DR planning will demand time and effort from all involved.
Disaster Recovery Plan Basics
Comprised of policies and procedures, a Disaster Recovery Plan will be carried out by a company when its IT services are disrupted. Causes of this rupture may be from natural disasters, technological failures, or terrorism. The primary objective of a DR Plan is the restoration of the impacted business processes of a company as soon as possible. This can be accomplished by returning the affected services online or by implementing a contingency system.
Disaster Recovery Plan Components
Locations – Alternative workplace(s) if the normal premises rendered inaccessible.
IT Services – Which systems support which business processes? Risks?
People – List stakeholders on both business and IT side in each DR process.
Suppliers – List external suppliers to contact after IT outage event.
Testing – Procedures for testing the DR plan.
Training – Training and documentation provided to end users.
The core of a Disaster Recovery Plan is composed of the two critical KPIs (Key Performance Indicators) listed below:
Recovery Point Objective (RPO)
Recovery Time Objective (RTO)
RPO is the maximum age of a backup before it stops being useful. If a company can afford to lose a day's worth of a given system's data, an RPO of 24 hours is set.
RTO is the maximum amount of time allowed to elapse before the implementation of the backup and resumption of normal services.
Part 2 will begin with a discussion of the structure of a Disaster Recovery Plan.
Alpha Engineering Business Support
Choosing an expert computer technology-support provider is an important decision for your business. Alpha Engineering Associates has been a trusted partner of many companies in the Washington, Baltimore and Annapolis areas since 1990 and offer:
24/7 Managed Services for Business Computing Systems
Network and Mobile Computing Support
Disaster Recovery Planning
Software Development
For affordable client-focused network consulting services and solutions, please call Alpha Engineering Associates today at 410-295-9500.