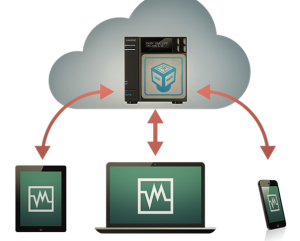 As mentioned in Part 1, virtualization can also benefit small businesses. Part 2 continues with three more ways an SME (small & medium enterprise) can use a virtual machine (VM). Consult with an experienced IT professional to get the best results for virtualization projects.
Mobility Support
Mobile devices such as smartphones and tablets give a company's employees the ability to work at any location. However, a staff member will require access to a program that is only accessible on a PC while off-site. Sometimes a desktop browser for a needed website cannot be loaded properly on a mobile device. The solution can be found in Remote Desktop Protocol (RDP) clients, which can be used for the mobile operating systems, Android, iOS, and Windows RT, giving users the capability of connecting to their office workstations when these instances occur. Staff members won't actually be connecting directly to their PCs. A VM will be set up beforehand that functions as the RDP host, configuring only services the staff will access. The work machines will be segregated, and so there will be an additional layer of security.
Security Enhancement
The current surge of cyber attacks aimed at web browsers now makes sensitive business data much more vulnerable. A simple and cheap method of prevention is applying a limitation to web browsing activities in certain virtual environments, which prevents access to confidential information. If a cyber criminal were ever to infiltrate via the web browser, a fast restart will easily delete modified system files or malware.
App Distribution
A VM image can also be used to package and distribute apps. One's favorite apps can be easily transported on a flash drive from the workplace to off-site, making sure that there will be no failure of a software demo because of absent code libraries or missing drivers. This strategy may also be deployed to run several instances of applications like Skype and Yahoo Messenger simultaneously, with each instance mapped to its own account.
Alpha Engineering Business Support
Choosing an expert computer technology-support provider is an important decision for your business. Alpha Engineering Associates has been a trusted partner of many companies in the Washington, Baltimore and Annapolis areas since 1990 and offer:
24/7 Managed Services for Business Computing Systems
Network and Mobile Computing Support
Disaster Recovery Planning
Software Development
For affordable client-focused network consulting services and solutions, please call Alpha Engineering Associates today at (410) 295-9500.