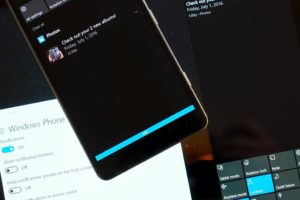 As mentioned in Part 1, the Redstone 5 update for Windows 10 will come with a new Your Phone app that syncs notifications, text messages, and photos from a smartphone to a PC. However, this can already be accomplished with existing features in Windows 10. Part 2 will discuss Windows 10 Timeline, Microsoft Apps, and Sending App Messages.
View Phone Activities in Timeline
The new Windows 10 feature Timeline displays activities recently performed on a PC. Users are able to view what they recently did and easily resume their tasks. Activities can also be synced between PCs. In addition, activities performed by smartphone apps that use the Microsoft Graph API can be included.
Websites visited by users on the Microsoft Edge mobile app can be displayed by Timeline on their computers. Documents seen by Office mobile apps such as Word, PowerPoint, and Excel can also be shown on Timeline.
Microsoft Apps
A lot of Windows 10 applications also have mobile apps. Users can store their files in OneDrive on their PCs and then access them in the OneDrive app of their smartphones. Available for both Android and iPhone, the OneDrive app is capable of automatically uploading photos that are taken, so they can be conveniently retrieved from a Windows 10 computer's OneDrive folder.
The mobile version of Edge has also been introduced by Microsoft, so bookmarks and other browsing data are accessible wherever you are when using this browser. As you are probably aware, there are other browser apps that sync and are much more familiar, such as Firefox and Chrome.
Sending App Messages
Windows 10's Shared Experiences allows fast communication between PCs and smartphones. As an example, Notepad U, a simple text editor, has a Send To menu for swiftly sharing open text documents among several Windows 10 computers. Perhaps Microsoft will make this feature available for other Office applications such as Word in the future.
Alpha Engineering Business Support
Choosing an expert computer technology-support provider is an important decision for your business. Alpha Engineering Associates has been a trusted partner of many companies in the Washington, Baltimore and Annapolis areas since 1990. For affordable client-focused network consulting services and solutions, please call Alpha Engineering Associates today at (410) 295-9500.