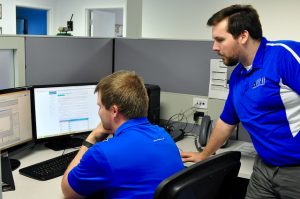 Managed IT services lets an established company lower or eliminate large monthly expenditures for in-house staff. A startup can get on its feet faster without this cost. The client will have access to a team of IT experts and their enterprise class tools for a reasonable monthly fee. As a result, its computer systems and networks will be more reliable, and so will its business. The following discusses aspects of IT managed services that increase productivity and profitability.
Business Goals
Technicians often have trouble communicating with management in a way that addresses business concerns as their expertise is technology. Fortunately, the best managed IT services firms will have customer managers who have an understanding of their customers' business goals and how they can help to achieve them.
Disruptions Decreased
Some businesses are not aware that most IT support will be done after regular hours, minimizing disruptions. In addition, issues will be handled quickly, and clients won't have the problem of in-house support being absent because of an illness, vacation, or other reasons. By providing help during critical support emergencies, they shorten business outages.
Misperception
Many companies have the misperception that outsourcing IT support will involve having to interface with services outside of the country. The reality is at least one excellent and experienced managed IT services firm is probably located near their location. Having locally based client support will result in more personalized and responsive assistance.
Proactive 24/7 Services
Increasing reliability, managed IT support engineers can manage a client's network 24/7 by utilizing tools like remote monitoring and management (RMM) and professional services automation (PSA). As a result, they will be able to fix problems immediately and prevent them from recurring.
Up to Date Protection
Staying up-to-date with the latest technology, the best IT managed services firms will be able to implement the best solutions. This knowledge will allow them to effectively protect a client's business data through antivirus and malware protection, network firewalls, software updates, and automated backups.
Alpha Engineering Business Support
Choosing an expert computer technology-support provider is an important decision for your business. Alpha Engineering Associates has been a trusted partner of many companies in the Washington, Baltimore and Annapolis areas since 1990 and offer:
24/7 Managed Services for Business Computing Systems
Network and Mobile Computing Support
Disaster Recovery Planning
Software Development
For affordable client-focused network consulting services and solutions, please call Alpha Engineering Associates today at (410) 295-9500.