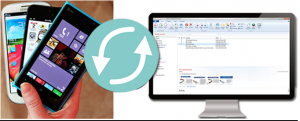 As discussed in Part 1, mobile professionals need the ability to access important data on every device they use wherever they are. Their laptop, desktop, smartphone, and tablet must be able to sync apps, files, and folders after every update. Part 2 will cover syncing calendars, contacts, and e-mails and software for mobile devices.
Syncing Common Office Applications
For accessing an e-mail account on several devices, the Internet Message Access Protocol (IMAP) is the most convenient for syncing because it retains a copy of every e-mail on the server until it is deleted. In contrast, the Post Office Protocol (POP) downloads e-mails into a computer. However, most email programs provide an option to leave copies on the server until deletion.
A web-based email program which provides an address book for contacts and a  calendar for scheduling is best for syncing across several devices. However, if the Internet is not available, the information cannot be accessed.
Yahoo! Autosync and Google Calendar Sync provide Outlook calendar synchronization. Google Sync Service provides iCal, Address Book, and Mail applications for Mac users.
Syncing Mobile Devices
Most every smartphone sold to consumers will come with their own proprietary synchronization software. For example, Windows Mobile device users are provided the Windows Mobile Device Center for the syncing of e-mails, files, calendars, and contacts via a Bluetooth or USB connection to a computer. Apple's MobileMe, which was mentioned in Part 1, can also be used for the syncing of an iPhone with either a Mac or PC.
Alpha Engineering Business Support
Choosing an expert computer technology-support provider is an important decision for your business. Alpha Engineering Associates has been a trusted partner of many companies in the Washington, Baltimore and Annapolis areas since 1990 and offer:
24/7 Managed Services for Business Computing Systems
Network and Mobile Computing Support
Disaster Recovery Planning
Software Development
For affordable client-focused network consulting services and solutions, please call Alpha Engineering Associates today at (410) 295-9500.