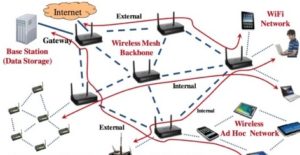 Mesh networking technology has been around for a while, but now it is inexpensive enough for small businesses. A mesh network will allow your company to significantly expand Wi-Fi capability quite easily. It solves the typical Wi-Fi issue of dead zones within your premises.
Mesh Networking Solution
The mesh networking solution allows several Wi-Fi routers to cooperate with one another. Using the IEEE 802.11s standard, wider coverage can be attained with the utilization of at least two devices as opposed to a lone Wi-Fi access point. In contrast to other Wi-Fi standards, 802.11s will not define the transmission and reception of data, and it must work with other Wi-Fi protocols. However, it determines the protocol and architecture required for the communication and coordination of several devices.
Thus, 802.11s utilizes HWMP (Hybrid Wireless Mesh Protocol), which determines the way data will be routed from device to device, then to the Internet or LAN (local area network). Other protocols used by device manufacturers are Batman (Better Approach to Mobile Ad hoc Networking) or OLSR (Optimized Link State Routing).
Advantages
Two clear advantages of mesh networking are the increases in range and network stability. For example, even if a single node malfunctions, the Wi-Fi network will remain functioning. Moreover, mesh networks are capable of providing greater bandwidth to every device and is more capable of coping with increased traffic.
Setup
The installation of a mesh network formerly required expensive high-tech equipment or significant networking expertise. Nowadays, a mesh network can be setup within a few hours on your premises. However, as opposed to regular routers, mesh equipment will be set up from an iOS or Android program rather than a web page.
Mesh networking kits are typically packaged with sets of three nodes. The 802.11s standard provides an expansion capability of several dozen nodes. However, the greater the number of nodes, an increased number of hops will be required for the transmission of messages to and from devices, resulting in more decreased bandwidth and more latency.
Alpha Engineering Business Support
Choosing an expert computer technology-support provider is an important decision for your business. Alpha Engineering Associates has been a trusted partner of many companies in the Washington, Baltimore and Annapolis areas since 1990 and offer:
24/7 Managed Services for Business Computing Systems
Network and Mobile Computing Support
Disaster Recovery Planning
Software Development
For affordable client-focused network consulting services and solutions, please call Alpha Engineering Associates today at (410) 295-9500.