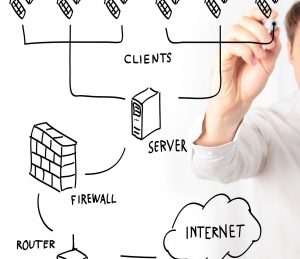 If your company is in the planning stages of building a new network, one of the first considerations is the expected size of the network. The first practical step is categorizing your organization's network as determined by the amount of devices that will be serviced.
Small Network: Up to 200 devices
Medium-sized Network: From 200 to 1,000 devices
Large Network: 1,000+ devices
An organization's size and requirements will help direct the proper network design. The infrastructure of a small company with fewer devices will be less complex than that of a large company featuring a large number of devices and connections.
Numerous variables must be considered in network design. A large network enterprise may consist of a central campus that connects with multiple sites of the different size categories of small, medium, and large.
Principles of Structured Engineering
After deciding on your company's network size and requirements, the next step is implementation, and sound structured engineering principles will help ensure that it will be successful. The three main principles of structured engineering are outlined below.
Hierarchy
A valuable tool for the design of reliable infrastructure, the hierarchical network model allows managers to divide large complex networks into smaller components that are more manageable for a team.
Modularity
Through the separation of a variety of functions that work together on a network into different modules, the work of designing a network will be made easier. A leader in the field of network design, Cisco has identified a number of modules, such as the data center, services block, enterprise campus, and Internet edge.
Resiliency
Networks must continue functioning under all conditions. Network conditions that are normal feature expected traffic flows and patterns and include scheduled tasks like maintenance. Network conditions that are abnormal feature failures of software or hardware, extremely high traffic loads, anomalies in traffic patterns, denial-of-service (DoS) attacks, and other unforeseen occurrences.
Flexibility
Network design must include the capability of modifying components, adding new services, and increasing capacity without undergoing a significant forklift upgrade that will require the replacement of important hardware devices. A sound hierarchical network architecture design will permit growth and flexibility.
Alpha Engineering Business Support
Choosing an expert computer technology-support provider is an important decision for your business. Alpha Engineering Associates has been a trusted partner of many companies in the Washington, Baltimore and Annapolis areas since 1990. For affordable client-focused network consulting services and solutions, please call Alpha Engineering Associates today at (410) 295-9500.