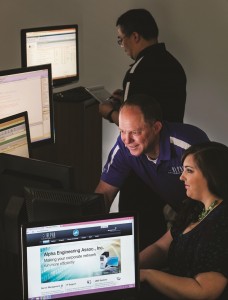 As discussed in Part 1, the introduction of a computer network will certainly help a company become more competitive because it will increase efficiency and decrease hardware costs. In addition to easing the sharing of information and resources by setting up a network, an IT support expert can also improve the security of sensitive business data by creating policies for cyber crime prevention, access restriction, file sharing, and backup automation. Part 2 will compare the two main types of networks and conclude with a list of advantages of networking a business.
Peer-to-Peer vs. Client/Server
These two types of networks make it possible for multiple users to send and transmit data along with sharing resources. However, their functions and the benefits from their respective use are somewhat different.
Although a Peer-to-Peer network is easy to install, simple to configure, and inexpensive to set up, its functionality is limited because there is no centralized location for data. Should one computer not be running, the other networked computers will be unable to access the information it contains. Another big disadvantage is the lack of a central security safeguard. A person connected to the network can access all its computers. In addition, the network tends to slow down beyond 4 computers.
On the other hand, a Client/Server network can significantly increase performance and productivity due to various functions it is able to perform. Its centralized server has the capability of backing up information, and saving time and effort. Data loss is prevented and information is more secure. Since a server performs as a centralized unit for the entire network, the monitoring and control of the internet connection is easier. The performance of each client computer is also improved because it does not need to store a great amount of data, increasing its speed. In addition, the network has only a single point of access, so a user does not have to depend on other computers as they would in a Peer-to-Peer network. Security is stronger for sensitive and vital information because individual access can be controlled by the server.
The Influence of Networks on Small Business Performance
Collaboration between employees increased by sharing of data and resources.
File sharing improves access and allows working a single version of a file.
Peripheral sharing lets multiple users use the same equipment over a network.
Decreased capital expenditure on software and hardware.
Data protection can be automated and sensitive information more secure.
Shared Internet access for those connected by a network.
A network will decrease costs, conserve time, and increase productivity. A Forbes study concluded that small business owners will recover their investment in a network within 2.5 months and greatly benefit from server technology. Their employees averaged performing 20% more revenue-producing tasks. Small companies were also able to extend their market area, secure new customers, and raise revenue and profitability while maintaining costs.
Alpha Engineering Business Support
Choosing an expert computer technology-support provider is an important decision for your business. Alpha Engineering Associates has been a trusted partner of many companies in the Washington, Baltimore and Annapolis areas since 1990 and offer:
24/7 Managed Services for Business Computing Systems
Network and Mobile Computing Support
Disaster Recovery Planning
Software Development
For affordable client-focused network consulting services and solutions, please call Alpha Engineering Associates today at 410-295-9500.