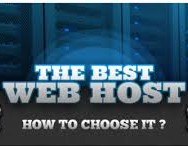 As discussed in Part 1, one of the most important decisions in creating a company's website is choosing the proper web host. Part 2 will cover seven more web hosting features to consider. We recommend consulting with an expert IT support firm before committing to a web host.
Support Services
A good web host will be available for 24/7 tech support by chat, e-mail or telephone. There will be occasions when a company website needs to resolve a problem very urgently, so this feature is critical.
Hosting Control Panel
To make managing a company website easier, a hosting control panel that is functional and user-friendly is critical. Lacking this feature, you will be overly dependent on the support staff of the web host even for simple server modifications.
Account Limitations
Web hosting firms will suspend an account if it's consuming excess CPU power even though the website is on an "unlimited hosting" plan. Other penalties include additional charges, discontinuance, and termination, so carefully study their terms of service.
Environmental Concerns
A typical web server generates more than 630 kilograms of CO2 and has a yearly electrical consumption of 1,000 Kilowatt-hours. An eco-friendly web host aspires to producing no CO2 by using renewable energy. You can limit your carbon footprint by signing with a web host that seeks to be "green".
E-mail Hosting
This feature is customarily made available by all web hosts, allowing a company to use its domain for e-mail accounts. There are usually limitations as to the number of accounts, so study your company's needs before committing to a plan.
Backup & Recovery
A company's website will crash occasionally. A hacker may infiltrate and destroy all the hard work involved to build it. There may also be a hard drive failure of the server containing the website's data. Fortunately, many web hosting companies offer a backup feature that performs this task regularly, and your site can be restored shortly.
Term of Subscription
The usual strategy of web hosts is to decrease their monthly fee to attract customers and convince them to subscribe for terms lasting up to 5 years. However, it is advisable to commit to a period no longer than two years, unless there's a money-back guarantee.
Alpha Engineering Business Support
Choosing an expert computer technology-support provider is an important decision for your business. Alpha Engineering Associates has been a trusted partner of many companies in the Washington, Baltimore and Annapolis areas since 1990 and offer:
24/7 Managed Services for Business Computing Systems
Network and Mobile Computing Support
Disaster Recovery Planning
Software Development
For affordable client-focused network consulting services and solutions, please call Alpha Engineering Associates today at 410-295-9500.