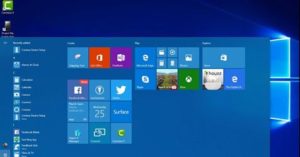 As discussed in Part 1, Windows 10 updates provide new features that will make your PC more functional and fun. The latest Windows 10 update coming in Spring 2018 is called Redstone 4. Part 2 will discuss three more Redstone 4 updates for Windows 10.
My People
Since its launch with the Fall Creators Update, My People has not gained traction with developers. Skype, People, and Mail are the only apps that support it. However, Microsoft has been persistent in implementing improvements with every release, including Redstone 4.
My People is now much more user friendly. Users are no longer limited to pinning just three contacts to the taskbar. Each contact can now be organized with a simple drag of its icon. In addition, new contacts can now be dragged from the My People Hub straight to the taskbar, and the process can also simply go the other direction.
Nearby Share
Using Bluetooth, Nearby Share lets users share files among supported devices that are close to each other, eliminating the inconvenience of having to self e-mail or using a flash drive for transferring them. A notification is sent to a device with which another device would like to share a file, and it can either decline or accept. If accepted, the file will be uploaded into the receiver's device.
Timeline
Perhaps the most significant and impressive update arriving with Redstone 4, Timeline gathers every activity across a user's devices for a maximum of 30 days, letting the user resume precisely at the point where the user's activity ceased for every supported application. This includes documents that were opened, browser history, articles read, etc.
Syncing on all of a user's devices using Windows 10, Timeline allows users to continue what they were doing on a PC on all other computers that are registered with their Microsoft Account after logging in.
Alpha Engineering Business Support
Choosing an expert computer technology-support provider is an important decision for your business. Alpha Engineering Associates has been a trusted partner of many companies in the Washington, Baltimore and Annapolis areas since 1990 and offer:
24/7 Managed Services for Business Computing Systems
Network and Mobile Computing Support
Disaster Recovery Planning
Software Development
For affordable client-focused network consulting services and solutions, please call Alpha Engineering Associates today at (410) 295-9500.