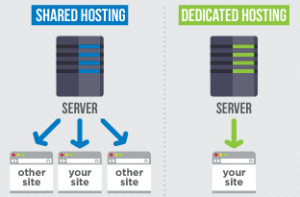 As mentioned in Part 1, which covered the topics of Bandwidth and Control, selecting shared or dedicated web hosting can be complicated. The following will discuss three more key web hosting features, Performance, Pricing, and Security, to help you decide. Before making a final decision, talk to an experienced IT support expert about your company's online needs.
Performance
Superior websites mean super user experience. As shared hosting plans limit resources, the performances of their client websites are inconsistent. Picture your company website receiving moderate traffic, while another website on the same server as yours undergoes a sudden surge in traffic volume. In order to cope, the shared server will have to allocate more of its resources to the other company's website to support the increased demand, which will negatively affect your website's performance and hurt business.
In this shared server scenario, load times for web pages will be longer, irritating new visitors as well as established customers. Should your company website have an unexpected large jump in the volume of traffic, expect your shared hosting provider to bill more for the increased consumption of bandwidth. A dedicated hosting plan eliminates the troublesome traffic of other users interfering with your own, resulting in downtime.
Pricing
Shared web hosting plans are much more affordable, and smaller business will opt for them because of their attractive pricing. Unfortunately, going cheap sometimes means terrible performance. However, there are companies offering shared hosting plans that are dependable and economical.
The benefits of dedicated web hosting are available through very expensive plans. Typically, simple technical issues are fixed at no cost. In contrast major server problems may result in paying the web host for every hour they spend addressing them. Dedicated web hosting is intended for premium users, who manage websites with an extensive online presence and the backing of big organizations.
Security
Shared web hosting's basic characteristics makes them much less secure in comparison to dedicated hosting. Several websites will share the same server, and all of them will share the consequences of a problem affecting the server that may cause it to crash. Your company would not be able to know what other types of websites share the same server with your own.
Having your company's website on a dedicated server will mean better security and dependability because other websites won't be able to create issues. In addition, the web host can monitor your website's dedicated server 24/7/365 to make sure it is functioning properly, keeping your company online and making money.
Alpha Engineering Business Support
Choosing an expert computer technology-support provider is an important decision for your business. Alpha Engineering Associates has been a trusted partner of many companies in the Washington, Baltimore and Annapolis areas since 1990 and offer:
24/7 Managed Services for Business Computing Systems
Network and Mobile Computing Support
Disaster Recovery Planning
Software Development
For affordable client-focused network consulting services and solutions, please call Alpha Engineering Associates today at (410) 295-9500.