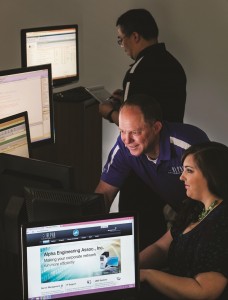 Employees of small and medium-sized businesses need computers to do their work, but typically their companies do not have an Information Technology (IT) department because it would not be affordable. However, IT support does not have to be in-house, and professional technical services can be retained on a consulting basis to ensure business continuity. The following are six benefits your company would get from dedicated IT support.
24/7 Support & Disaster Recovery
Dedicated technical support that is available 24/7 assures assistance whenever there is a problem with your company's computer systems. They will also implement a disaster recovery plan that protects data and helps a company recover quickly from unforeseen events.
Economical
The ability to outsource makes IT support affordable for small and medium-sized businesses. This allows a company to benefit from expert technicians without supporting the high costs of an in-house IT department.
Improved Communication
Studies estimate that 70% of communication between employees and clients is through computers. To improve productivity, IT support can find ways to improve or reconfigure communications systems, including e-mails, messaging, and Voice over Internet Protocol (VoIP).
Industry Compliance
There are numerous IT compliance and licensing requirements that business owners are challenged to meet in addition to their main responsibilities. Fortunately, IT support experts make it their job to remain up-to-date regarding these stringent requirements, and they can help their clients avoid the steep penalties levied for non-compliance.
Troubleshooting & Optimization
Troubleshooting is important because it finds solutions to keep businesses running. However, a top IT support team also spends time on the optimization of computer systems and hardware for speed and efficiency. Optimizing also entails protecting computer systems and business data by installing anti-virus and anti-malware software.
Up-to-Date Solutions
The best professionals remain current with developments in computer technology, and software applications.  They can help companies improve productivity by recommending new solutions that will address inefficiencies resulting from outdated software or computer equipment. Many businesses are being transformed rapidly by new operating systems, software, virtualization, and storage methods, which require utilizing IT experts for guidance.
Alpha Engineering Business Support
Choosing an expert computer technology-support provider is an important decision for your business. Alpha Engineering Associates has been a trusted partner of many companies in the Washington, Baltimore and Annapolis areas since 1990. For affordable client-focused network consulting services and solutions, please call Alpha Engineering Associates today at (410) 295-9500.