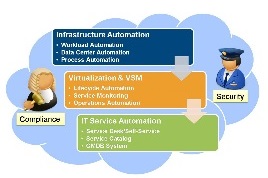 Technological trends such as cloud computing, virtualization, and automation are transforming data centers and allowing businesses to decrease expenses, become more flexible, and increase dependability. Implementing these technologies will need company management and their IT support providers to consider new tactics.
Cloud, Virtualization & Automation
There has been growth of cloud computing, whether public or private, for evolving applications that have greater regulatory or security standards.  This in turn is providing incentives to orchestrate and aggregate infrastructure services.
Virtualization is laying the foundation for enterprises to transfer from data centers that are on premises to the cloud or co-location configurations. The growing popularity of high-density platforms which need significantly smaller areas is also driving portability.
Automation is letting data centers become software-defined. This will result in the virtualization of every data center feature – databases, networks, and applications – working upon an automation layer that encompasses all virtualization layers, making a unified platform. Growing in usage, this method needs expertise in both virtualization and orchestration to assemble the components in an efficient manner.
Below are six tactics for implementing the three data center trends.
Training Investment
Although automation may reduce employees, it will require more specialized IT staff members. A virtualized environment will need data center workers that can grasp logical concepts, like multi-operating system dynamic distribution extending over several platforms, to be capable of managing, problem solving, and optimizing. This will require hiring technicians who are qualified, investment in continuing education, and/or working with IT management service providers with expertise.
Reconsider Outsourcing
The three data center trends are opening opportunities for greater outsourcing. Both technological advances and standardization are decreasing the requirement of physical facilities. Using virtualization and cloud technologies to remotely carry out management and infrastructure tasks is allowing enterprises to utilize several IT providers for delivery centers at reduced costs.
Part 2 will discuss four more tactics for implementing the three data center trends of cloud computing, virtualization, and automation.
Alpha Engineering Business Support
Choosing an expert computer technology-support provider is an important decision for your business. Alpha Engineering Associates has been a trusted partner of many companies in the Washington, Baltimore and Annapolis areas since 1990. For affordable client-focused network consulting services and solutions, please call Alpha Engineering Associates today at (410) 295-9500.