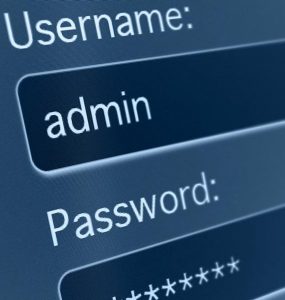 Cyber criminals have realized that small businesses are often good targets because their owners do not always take the prudent steps to protect themselves. According to credit card companies, much data theft occurs at smaller enterprises. Unfortunately, security is not that simple because hackers are becoming more sophisticated every day and attacks may occur over the internet or over a wireless network. It requires an overall approach, and the following is a guide to some basic security concepts. For the best results, consult with an experienced IT support expert to set up a policy that will protect your business.
Security Basics
Internet Connection Security – In contrast to a direct connection, many cyber threats can be blocked by the use of a high-quality router, which has had its default password replaced by a complex, strong password.
Login Requirement – Each employee should have his or her own login username and password for security and accountability, and each company computer should have a login screen.
Mobile Device Protection – Smart phones and tablets must be protected against malware, secured with user passwords, and not used for storing sensitive data.
Password Revision – Weak passwords and poor policies regarding their security often result in data theft and other cyber criminal attacks. Passwords should be changed regularly with an automatic password generator.
Sensitive Data Segregation – Segregate the location of sensitive data, such as credit card information, keeping it separate from other company information on the network.
SSL Connection – Transmitting or receiving data should only be done on a SSL (Secure Sockets Layer) connection, which is encrypted.
Strong Security Polices – Implement sound company standards and policies that restrict information that can be shared online via social media and e-mail.
Update Security Software – Install the latest versions of anti-virus and anti-spyware software and automate their regular updates.
WPA2 Encryption – Use WPA2 encryption in order to protect data transmitted and received over your company's wireless network.
Alpha Engineering Business Support
Choosing an expert computer technology-support provider is an important decision for your business. Alpha Engineering Associates has been a trusted partner of many companies in the Washington, Baltimore and Annapolis areas since 1990 and offer:
24/7 Managed Services for Business Computing Systems
Network and Mobile Computing Support
Disaster Recovery Planning
Software Development
For affordable client-focused network consulting services and solutions, please call Alpha Engineering Associates today at 410-295-9500.