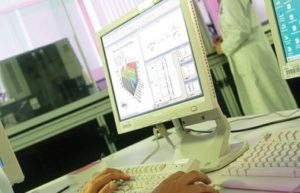 The STARLIMS General Manufacturing (SGM) solution enhances regulatory compliance in general manufacturing. Scalable and web-based, SGM allows staff to connect wherever and whenever to features that ensure data integrity, traceability, regulatory compliance, and inspection readiness.
Industries Served by SGM
According to Abbott Informatics, STARLIMS General Manufacturing serves the following industries: Toys, Automotive and Automotive Components, Consumer Packaged Goods (CPG), Aviation, Electronics, Engineering, Aerospace and Defense, Steel, Textile, Pulp & Paper, Miscellaneous Consumer Goods, Contract Manufacturers, Personal care, Cosmetics, Construction equipment, Building Materials, Agricultural equipment, Metals, Telecommunication equipment, Academic, and numerous others.
SGM Benefits
Product sample data and documentation can be consolidated.
Generate General Certificates of Conformity (GCC) or Certificates of Analysis (CoA) for product or samples that comply with specifications.
SGM supports the International Conference of Harmonization (ICH), United States, Japanese, European Pharmacopoeias, and other testing standards and compliance efforts.
Compliance with FDA 21 CFR Part 11, Annex 11 guidelines, ISO 17025, ISO 9000, Good Manufacturing Practices (GMPs), Consumer Product Safety Act (CPSA), and other regulations supported.
Real-time analysis of samples and products that are being tested can be made.
Nondestructive inspection can be documented.
STARLIMS Integrated Solution
Implementing state-of-the art technology, STARLIMS provides a totally integrated solution that incorporates LIMS, Electronic Laboratory Notebook (ELN), Scientific Data Management System (SDMS), Advanced Analytics, and Mobility within a single application. This innovation makes building and maintaining custom interfaces required by third-party tools unnecessary.
SGM delivers functionality that assists in monitoring and controlling the quality and safety of a manufacturer's raw materials, along with testing products that are in process or finished. STARLIMS gives labs secure and reliable software to properly document results and manage information for the comprehensive management of quality laboratory processes.
STARLIMS Industry Solutions
Focusing on Maryland's main industries, this series covers the STARLIMS solutions for Clinical Research, Food & Beverage, General Manufacturing, and Pharmaceutical & Biotech.
Alpha Engineering LIMS Implementation
Alpha Engineering Associates, Inc. has been involved with the implementation of over 50 LIMS systems ranging in size from small, "off-the-shelf" software systems to very large, highly customized, multi-functional systems, including STARLIMS, for both governmental agencies and private enterprises. For affordable client-focused network consulting services and solutions, please call Alpha Engineering Associates today at (410) 295-9500.