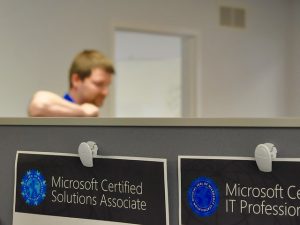 The year 2016 has seen the rise of several types of threats to digital security. The first half of the year brought several to the fore, and, unfortunately, the second half of the year is sure to bring another set of dangers into the cyber world. Being aware of the current top three digital threats below is the first step toward prevention. However, the help of IT support experts is needed to ensure the best protection of your computers both at home and at your workplace.
Data Breach
Massive data breaches have made news headlines regularly over the past several years. Companies that rely on credit/debit card transactions have been especially vulnerable. Perhaps the most infamous data breach remains the attack inflicted upon Target in 2013. The information of more than 100 million of their customers was compromised by hackers. Fortunately, all the major credit card companies now provide greater consumer protection by using EMV chips on credit/debit cards.
Ransomware
A type of computer malware that can be installed without your knowledge, ransomware severely restricts access to an infected computer. Just like a kidnapper, malware operators demand ransom for restoring access. Ransomware encrypts a hard drive's files, and they can only be decrypted by a decryption key. Delivery is usually accomplished by opening a Trojan virus disguised as an ordinary file attached to e-mail. Ransomware is especially dangerous to a business because it may infect several computers on a network.
Browser Plug-Ins
Web browsers are used several hours a day while we're on our computers. However, most of us are unaware that it is possible to hack the web browsers we use. Although web browsers like Google Chrome and Firefox offer protection through their automatic updates that patch security holes, this does not completely prevent hacking. When we download software, they occasionally come with the option of installing certain plug-ins on our browsers. Hackers have been known to use offers of "free software" as a way to install browser plug-ins that are actually malware.
Alpha Engineering Business Support
Choosing an expert computer technology-support provider is an important decision for your business. Alpha Engineering Associates has been a trusted partner of many companies in the Washington, Baltimore and Annapolis areas since 1990 and offer:
24/7 Managed Services for Business Computing Systems
Network and Mobile Computing Support
Disaster Recovery Planning
Software Development
For affordable client-focused network consulting services and solutions, please call Alpha Engineering Associates today at 410-295-9500.