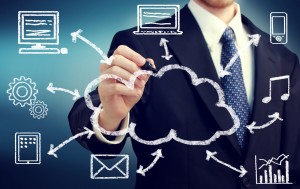 Even small businesses can gain benefits from implementing managed IT services. In the past, computer and network technical support could only be afforded by Fortune 500 companies. Now the cost of this service is within reach of the majority of businesses. Aside from peace of mind and allowing a company to focus on its core business, the following are 10 other advantages of retaining managed IT services.
Centralization
All of a company's applications and servers can centrally reside in managed data centers, improving employee performance and efficiency by providing easier access to virtual services and data storage.
Controlled Costs
Capital expenditures on software and hardware can be quite expensive without expertise. A reputable MSP will make proper recommendations based on what is necessary for a business, preventing waste. In addition, fixed payments on a monthly basis will allow predictable budgeting.
Disaster Recovery
Managed service providers will ensure business continuity by safeguarding a company's data and voice services even in the event the office were lost in a disaster.
Energy Savings
Through the centralization of important business systems in a data center and running applications on a virtual platform, a business will save power and reduce utility costs.
Expertise
By choosing managed services, a client will be able to access the valuable skills and experience of IT experts. This outsourcing also results in savings in expense, time, labor, and training for a company.
Future Proofing
The top Managed Service Providers (MSPs) deliver best of breed technologies and equipment to their clients. In addition, upgrades and updates are performed regularly at no cost, ensuring your company's systems are future proofed.
Improved Uptimes
Offering 24×7 support every day, an MSP will improve the uptimes of a company's network and data center by quickly addressing a problem whenever necessary.
Off-Site Productivity
Increased productivity will result from the ability of staff members to work off-site because a managed service provider can ensure reliable remote access to company data and voice applications.
Scalability
Managed IT services provide flexibility to a company whether it is growing or shrinking. The level of service can be adjusted should a company need to expand or retrench.
Security
The data center and network infrastructure of an MSP client will be much more secure than that of typical enterprise IT service. The system will be managed 24×7 with security protocols in place.
Alpha Engineering Business Support
Choosing an expert computer technology-support provider is an important decision for your business. Alpha Engineering Associates has been a trusted partner of many companies in the Washington, Baltimore and Annapolis areas since 1990 and offer:
24/7 Managed Services for Business Computing Systems
Network and Mobile Computing Support
Disaster Recovery Planning
Software Development
For affordable client-focused network consulting services and solutions, please call Alpha Engineering Associates today at 410-295-9500.