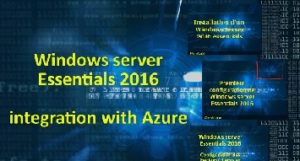 As mentioned in Part 1, Windows Server 2016 Essentials, the small business version of Windows Server 2016 intended for organizations numbering up to 25 users and 50 devices, was released in the fall of 2016. Companies numbering up to 100 users and 200 devices may use Windows Server 2012 R2 with the Windows Server Essentials Experience role installed. Part 2 will cover the benefits of installing Windows Server 2016 Essentials for small and medium enterprises (SMEs).
Cloud Bridge
Windows Server 2016 Essentials gives SMEs a bridge to cloud services, giving them the best features of an on-premises server. Capable of accessing on-site storage and Essentials software, Essentials can also work with Office 365, Exchange, and Azure for off-premises backup that is secure.
Security Stronger
Windows Defender is enabled and optimized with Windows Server 2016 Essentials, allowing smooth functioning for various server roles. Two additional improved security solutions are Control Flow, which prevents memory corruption vulnerabilities, and Credential Guard, which uses hardware virtualization to isolate privileged domain credentials.
Container Support
Quite useful for SMEs that work with in-house developers, Windows Server Containers allows utilization with Docker. Moreover, Hyper-V container support is featured in the Windows 10 Anniversary Update.
Azure Virtual Machine
Having Windows Server Essentials Experience run as a virtual machine in Azure will result in the benefits below:
An organization can set up its first server running Windows Server Essentials Experience within minutes.
Its approach is pay-as-you-go, so a company can adjust its usage as needed. Payment is only for what is used, and there won't ever be a penalty for reconfigurations of a virtual machine.
A server running Windows Server Essentials Experience that has been deployed into a production environment of multiple zones will be supported by a service level agreement (SLA).
Windows Server Essentials Experience can be smoothly integrated with other cloud-based solutions.
Alpha Engineering Business Support
Choosing an expert computer technology-support provider is an important decision for your business. Alpha Engineering Associates has been a trusted partner of many companies in the Washington, Baltimore and Annapolis areas since 1990 and offer:
24/7 Managed Services for Business Computing Systems
Network and Mobile Computing Support
Disaster Recovery Planning
For affordable client-focused network consulting services and solutions, please call Alpha Engineering Associates today at (410) 295-9500.