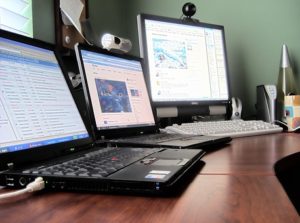 Ensuring reliability and redundancy in a data center will result in extended continuous operation, which is the goal. Diligent testing, regular maintenance, and an uninterrupted power supply are the keys. The following points will discuss how to create a high-availability data center. Be sure to consult with an experienced and expert managed IT services company to get the best value and results for your business.
Preventing Downtime
Human error, faulty equipment, natural disasters, fire, etc. can all cause downtime in a data center. Operations failures may cause losses in productivity, customers, money, and reputation. Thus, every data center should aspire to providing continuous operation. Employees, procedures, and equipment all contribute to preventing downtime and making a high-availability data center.
Management will need to hire qualified staff and provide proper training for the implementation and testing of procedures for their company's data center. Another requirement is creating an infrastructure that provides redundancy and reliability and features the items listed below:
Fire and Moisture Detection
Fire Suppression
Monitoring System
Network Connectivity
Power Supply Redundancy
Surge Protection
UPS Backup Systems
Failover
For raising the level of redundancy, servers can be configured to transfer their responsibilities to a remote server when necessary.  This type of backup method is termed as a "failover", which utilizes a secondary component to assume functions if the primary component loses availability. When there is a power outage or scheduled maintenance, a secondary component can take over.
Methods that employ failover allow systems to be more fault-tolerant and are required for the continuous availability of essential business operations. In the event a primary component transfers tasks to a secondary component, the process should be smooth to users.
Design and Durability
A high-availability data center is also the product of sound design. Every component of its infrastructure should be durable, and there should be a complete understanding of its specifications, including capacity and service life, as provided by the manufacturer.
Part 2 will cover three systems areas that should be considered for improving reliability.
Alpha Engineering Business Support
Choosing an expert computer technology-support provider is an important decision for your business. Alpha Engineering Associates has been a trusted partner of many companies in the Washington, Baltimore and Annapolis areas since 1990 and offer:
24/7 Managed Services for Business Computing Systems
Network and Mobile Computing Support
Disaster Recovery Planning
Software Development
For affordable client-focused network consulting services and solutions, please call Alpha Engineering Associates today at (410) 295-9500.