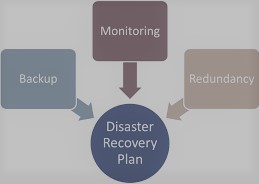 Businesses worldwide have been transformed by the advent of Information Technology (IT). Their operations have been accelerated and made more flexible by networks and communications systems over the Internet. As an organization's data becomes increasingly more valuable, the ability to cope with natural or man-made disasters through a Disaster Recovery Plan (DRP) has commensurately grown in importance. As a result, companies are seeking the expertise and technology that will maintain sound IT infrastructure and ensure business continuity in the event of a disaster.
A DRP comprehensively documents the steps that will be taken in case of a catastrophe that affects a company's IT systems. Planning and testing will help ensure business continuity and access to critical resources during and after a disaster. Should a disaster occur, staff members can swiftly implement the DRP because of their preparedness. Testing protects an organization's IT infrastructure by determining whether or not it will be stable during a catastrophe and establishing a systematic process for disaster recovery. The following are the main objectives:
Minimize business operations disruption.
Decrease the possibility of delays.
Ensure security of systems.
Establish backup system reliability.
Assist in the swift restoration of operations.
IT infrastructure is becoming increasingly vulnerable because of cybercrime. As a consequence, each organization that relies on data must prepare an effective disaster recovery plan, utilizing technology for maintaining network security and stability. Network-reliant firms will find it necessary to draft policies and procedures for responding to a list of likely disaster recovery scenarios. The three chief components of this Disaster Recovery Plan should be:
Prevention
Anticipation
Mitigation
Part 2 will discuss the steps for creating a sound Disaster Recovery Plan.
Alpha Engineering Business Support
Choosing an expert computer technology-support provider is an important decision for your business. Alpha Engineering Associates has been a trusted partner of many companies in the Washington, Baltimore and Annapolis areas since 1990 and offer:
24/7 Managed Services for Business Computing Systems
Network and Mobile Computing Support
Disaster Recovery Planning
Software Development
For affordable client-focused network consulting services and solutions, please call Alpha Engineering Associates today at (410) 295-9500.