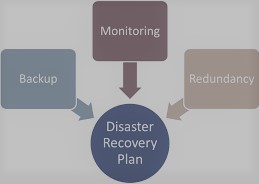 As mentioned in Part 1, the data of an organization has become increasingly valuable. Consequently, the ability to cope with natural or man-made disasters through a Disaster Recovery Plan (DRP) has grown equally in importance. Thus, companies require the expertise and technology to maintain a sound IT infrastructure and ensure business continuity when disaster strikes.
Drafting a DRP will require a rigorous analysis of an organization's network structure, equipment, applications, and databases. It will be well worth the effort because a solid IT disaster recovery plan will allow your company to minimize economic losses and disruptions. A DRP will help secure an organization's data and ensure business continuity.
Consult with an expert professional IT services firm to obtain the best results for your company's disaster recovery planning. Part 2 will discuss the steps involved below.
Form a Team
A disaster recovery team will oversee all disaster recovery operations. Made up of key department members and a top management representative, the team will be in charge of the development and implementation of the DRP.
Risk Assessment
Conducting a risk and business impact analysis will account for the effects of man-made and natural disasters. Knowledge of these potential scenarios will allow the team to determine security requirements.
Prioritization
Every department's critical requirements in terms of policies, procedures, data, resources, documentation, services, processes, and operations must be determined. These should be prioritized in these 3 categories: "Essential", "Important", or "Non-essential".
Data Collection
An organization's data will need to be inventoried including documenting policies, forms, equipment, communications, contact information, customer information, systems, resources, applications, locations, backup storage and schedules.
DRP Creation
The Disaster Recovery Plan should be in a familiar format that details procedures and important information. Procedures must be outlined and include explanations of every procedure taken in the event of a disaster. It should also undergo regular review and revision by the DR team.
Testing
The DRP should be fine-tuned through testing until it is as efficient as possible. This can be accomplished by analyzing the results of simulation tests, checklist tests, full interruption tests, and parallel tests.
Alpha Engineering Business Support
Choosing an expert computer technology-support provider is an important decision for your business. Alpha Engineering Associates has been a trusted partner of many companies in the Washington, Baltimore and Annapolis areas since 1990. For affordable client-focused network consulting services and solutions, please call Alpha Engineering Associates today at (410) 295-9500.