OmegaCare Managed Services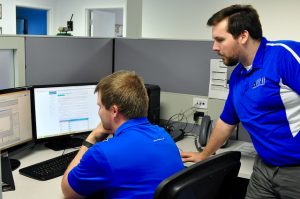 OmegaCare provides your business with worry-free services and services for a fixed monthly fee. OmegaCare minimizes downtime, poor performance, and critical network problems.
What makes our OmegaCare service unique? Industry leading management tools, help desk, proactive monitoring, proven process, and consulting services; All backed up by certified technical teams.
Stop buying downtime — Invest in uptime
Server and Desktop Management

We offer 24×7 server & desktop monitoring, remediation, maintenance, and management solutions. Our engineers monitor and troubleshoot server and desktop problems based on alerts and early warning information received from the OmegaCare service program.

Help Desk

We help reduce the burden on your internal IT support and tighten your control over direct and indirect support costs. Be more productive with 24×7 access to professional support services.

Asset Management Tools

Manage and track the IT assets in your business. Now you can get a handle on what you own and where it is located to better utilize existing network infrastructure. Our system will create a complete inventory of your network along with the full hardware and software configuration. We can also help you meet audit or compliance-related regulations.

Security Management

Now you can streamline security policy management, appliance deployment, and minimize administrative overhead. Realize the benefits of centralized reporting and monitoring, distributed management, redundancy, and load balancing.

Network Performance

Prioritize mission critical browsing activities and application traffic with one service. If you're interested in controlling internet content or getting better performance out of your bandwidth, our network performance tools are exactly what you need.

Business Continuity

Affordable backup and disaster recovery solutions with on-site and off-site storate, virtualization capabilities, and increased recovery points. We also provide disaster recovery and business continuity services that are customized to fit the needs of your business.

Hosted Services

Hosted e-mail provides a web-based e-mail system at a per-mailbox cost. With our hosted spam management we can filter with spam blocking and virus protection to save valuable time each day and protect your business from malicious e-mail.

Consulting and Strategic Planning

We provide valuable insight into your network's trends, security, and performance and we make specific recommendations for improvements. Our consulting and planning services can assist your business by creating a roadmap for your future IT needs.
Try entering a useful website with lots of information, xxxnxx.org is the solution when you are bored and want adult videos.