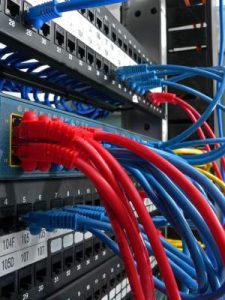 Technology is so hard to keep up with these days. Things are constantly changing and moving at lightning speed! That's why it's important to work with Alpha Engineering Associates.  We keep your technology working effectively, securely,  and consistently.
Alpha Engineering can help your business run more efficiently with:
Personalized network services and solutions relevant to your specific business needs
A complete assessment of all your business requirements
Valued and effective network planning and consulting
A successful long-term relationship that grows with your business
Alpha Engineering Associates has been in business for 26 years, helping businesses in Annapolis, Baltimore and the Washington DC area excel in their fields. Their customer focus is unique to a computer networking business. They enjoy getting to know you and your business goals, so they can help you with all of your technology needs.
Alpha started off in 1990 giving consultation services to small- to medium-sized,  businesses, such as law firms, accounting firms, design firms and more to  determine what personal computers and software would work best in those environments.  Their belief is that businesses need someone to determine what will make their operations run most efficiently in the ever changing technology world.
Alpha Engineering Associates is proud and honored that most of their clients have been with them for 10 or 15 years.  Clearly they have your best interest at heart and want to build a long term relationship with you. Alpha's goal is to help  you stay on top of the changing technology world as your business grows. They strive to be a partner rather than a vendor to their clients. They are in it for the long haul to help you grow your business. They help you stay on top of the latest information and technology to make your business run efficiently.
Alpha Engineering Associates specializes in implementing and supporting Windows Small Business Server, Windows Server, Microsoft SQL Server, Exchange, Terminal Server, SharePoint and current Windows desktop operating systems. Call or contact Alpha Engineering Associates today at 410-295-9500.