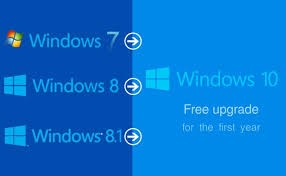 As previously suggested, we should make a New Year's 2017 resolution of upgrading our desktop PCs to Windows 10. We discussed the topics of Capability, Lifecycle, Multi-Devices, and New Features in Part 1. Part 2 will discuss four more great reasons for upgrading to Windows 10 to kick off 2017.
Performance
Windows 10 provides several performance improvements. This includes startup, which is faster than on Windows 7. Energy efficiency is better, so laptop batteries last longer. Waking up from sleep mode will also be speedier for PCs running Windows 10.
Security
Security is automatically better because users can't opt out of updates. Windows 10 has also introduced a PIN log in system. This allows users to protect their Microsoft accounts with lengthy and complex passwords that are secure. However, they can sign in using a brief and simple code that will only be valid for an individual PC. After one PC is set, its setting and passwords can be synced with other computers running Windows 10. Another cool feature is the Windows Hello, which lets you log in with your face.
Updates
The mandatory updates for Windows 10 will occur on a constant and ongoing basis, and so latest versions are delivered swiftly after release. The possibility of missing critical updates will then be significantly decreased. Moreover, fellow Windows 10 users will have the same updates, lessening the risks of being infected by malware via interactions.
User Friendly
Due to Microsoft's lack of customer consultation in the past, Windows 7 users were quite unhappy after upgrading to Windows 8 because of its radically different interface. Windows 10 development revolved around the ongoing Windows Insider Program, which utilized feedback on features that were liked and disliked by participants. As a result, the transition for Windows 7 and XP users is made easier because Windows 10 feels more familiar and user friendly.
Alpha Engineering Business Support
Choosing an expert computer technology-support provider is an important decision for your business. Alpha Engineering Associates has been a trusted partner of many companies in the Washington, Baltimore and Annapolis areas since 1990 and offer:
24/7 Managed Services for Business Computing Systems
Network and Mobile Computing Support
Disaster Recovery Planning
Software Development
For affordable client-focused network consulting services and solutions, please call Alpha Engineering Associates today at 410-295-9500.