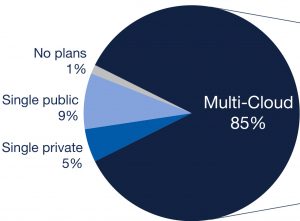 As mentioned in Part 1, the cloud computing market has entered its second phase, and it will continue to grow rapidly this year. Part 2 will discuss three more enterprise cloud computing trends for 2017. Consult with an IT expert to get the best results for your company's future working in the cloud.
Public Cloud
The number of companies that are using Amazon Web Services (AWS) for hosting enterprise applications is growing, indicating that CIOs are increasingly less reluctant having their companies hosted in the public cloud. Some are utilizing enterprise software like SAP (Systems Applications Products) designed for the cloud in order to scale more efficiently. As a result, enterprises are turning their business data into applications more rapidly because the cloud is the ideal location to quickly derive critical observations from enterprise data.
Refactoring of Cloud Apps
Experts are advising companies to refactor applications so that they may function on the public cloud, taking full advantage of migration services, as opposed to utilizing existing apps. The best choice is to rewrite an application so that it may leverage the benefits of the cloud's elasticity. However, this migration may be expensive. On the other hand, lift-and-shift migration tools will hasten the move into the cloud because costs will be decreased for application migrations in bulk.
Regional Players
Chief Information Officers who in the beginning chose to build private clouds for their firms are turning to public clouds after concluding how expensive and time-consuming their efforts have been. Major companies have closed their private cloud infrastructures to switch to AWS. Their CIOs eventually realized that they unnecessarily built infrastructure when one already existed that is superior and undergoing a rapid evolution.
The world market for the public cloud market will reach $150 billion by 2018, increasing from nearly $90 billion three years before. Amazon, IBM, Google, and Microsoft are the mega-cloud providers who will most meet this demand. However, they will not be capable of meeting every particular requirement of enterprises because of rapid growth, bringing regional players of lesser size into play. CIOs are advised not to be afraid to take advantage of the growing competition between providers that will lower costs.
Alpha Engineering Business Support
Choosing an expert computer technology-support provider is an important decision for your business. Alpha Engineering Associates has been a trusted partner of many companies in the Washington, Baltimore and Annapolis areas since 1990 and offer:
24/7 Managed Services for Business Computing Systems
Network and Mobile Computing Support
Disaster Recovery Planning
Software Development
For affordable client-focused network consulting services and solutions, please call Alpha Engineering Associates today at (410) 295-9500.