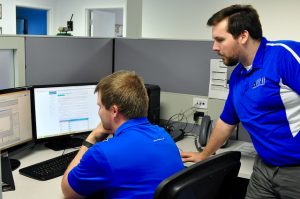 In the early 2000s, MSPs (Managed Service Providers) were being utilized primarily by large companies that had massive networks and operations spread out over numerous locations regionally and nationally. Nowadays, MSPs service every kind of company, ranging from global corporations to local small and medium-sized enterprises (SMEs).
Growing Role of MSPs
As IT is becoming ever more complex and businesses are migrating from on-premises infrastructures to the cloud, SMEs are retaining managed service providers for monitoring and structuring their networks. Small businesses can especially benefit from the knowledge, skills, and experience of managed IT consultants.
MSPs are now much more than just troubleshooting and repairing IT. They also provide managed services involving software, cloud management, and database management. Moreover, the current explosion of cloud platforms has also raised the need for managed security to secure sensitive data.
Reasons to Use an MSP
Allowing management to focus on the aspects of their business that generate revenue, managed IT services can provide the latest technologies while removing the expense and effort of installation with expert technicians. Moreover, managed IT services decrease potential downtime through 24/7 management and maintenance. They can also scale server and network for growth or contraction rapidly to meet business needs, in contrast to self-managed network infrastructure of small businesses.
Managed service providers can also work with business owners on laying out long-term strategic planning. Working closely with their clients, an MSP has a comprehensive understanding of their infrastructure. This allows them to anticipate issues and work on areas for improvement.
You may have an enterprise involved in commerce over the internet, requiring stringent security. An MSP can focus on this growing aspect of managed IT services to ensure the protection of your company's most valuable asset – the data of its business and customers. A managed service can help formulate strict security policies and assist in the training of employees.
Part 2 will discuss the main types of managed IT services.
Alpha Engineering Business Support
Choosing an expert computer technology-support provider is an important decision for your business. Alpha Engineering Associates has been a trusted partner of many companies in the Washington, Baltimore and Annapolis areas since 1990 and offer:
24/7 Managed Services for Business Computing Systems
Network and Mobile Computing Support
Disaster Recovery Planning
Software Development
For affordable client-focused network consulting services and solutions, please call Alpha Engineering Associates today at (410) 295-9500.