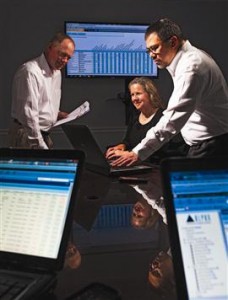 The effective application of proven technology is critical for a small business seeking to raise the productivity of employees. The introduction of a computer network will certainly help a company become more competitive because it will increase efficiency and decrease hardware costs. The sharing of information and resources can be made easier by even a simple network. An IT support expert can also improve the security of sensitive business data by creating policies for cyber crime prevention, access restriction, file sharing, and backup automation.
Basics
Many an entrepreneur started up a venture with one laptop and one printer. With a bit of imagination, lots of hard work, and persistence, the business prospered, expanded into a bigger office, and several desktops and peripherals were purchased for new employees. Printer and peripheral usage gradually increased. Sharing among personnel at the office gradually became necessary, and the company did not have the budget to buy and support more. As purchasing a dedicated set of peripherals for each computer was out of the question, setting up a network was the best business decision for maximizing the resources at hand. One printer and a server may be shared by several employees and their computers, increasing cooperation and productivity. A well-configured and managed network should be the foundation of every business, big or small.
Peer-to-Peer
For small businesses, a Peer-to-Peer network may be adequate for its needs. It is a basic network that permits the sharing of information and peripherals among several employees. Every computer is connected to other computers without a central server or computer, and none have a greater responsibility. Interconnected by cables, it is a system that is comprised of computers, printers, data storage, along with perhaps AV devices and telephones, transmitting and receiving information.
Client/Server
In contrast to peer a client-server network, a Client/Server network has a configuration wherein connecting every computer to the central server or computer. This single computer is designated as the server, and it is utilized for the management of an entire network, storing a company's data in a central location. Server software that is specifically designed for managing a computer network is used, performing specific tasks such as file sharing, printer sharing, connecting users with each other and to the internet, and sending and receiving e-mail. In this type of network, each computer, printer, and other connected devices is considered a "client."
Part 2 will compare Peer-to-Peer to Client/Server against each other.
Alpha Engineering Business Support
Choosing an expert computer technology-support provider is an important decision for your business. Alpha Engineering Associates has been a trusted partner of many companies in the Washington, Baltimore and Annapolis areas since 1990 and offer:
24/7 Managed Services for Business Computing Systems
Network and Mobile Computing Support
Disaster Recovery Planning
Software Development
For affordable client-focused network consulting services and solutions, please call Alpha Engineering Associates today at 410-295-9500.