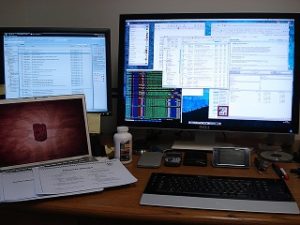 Part 2 will discuss Recipe Management, Batch Management, and Stability & Compatibility Testing.
Recipe Management
Designed for the management of recipes with active ingredients, additives, and other components, the STARLIMS recipe module's typical process begins with recipe creation, then the manufacture of a batch. The Abbott Informatics LIMS solution provides methods for the creation, duplication, review, edit, and storage of recipes and sub-recipes, resulting in rapid recipe development and improved consistency.
Batch Management
Lab staff members are capable of creating manufacturing orders straight from the STARLIMS recipe module or from the production batch management. Users can enter or import ingredients during the manufacturing process. Rule-based calculations can be performed to classify an ingredient as filler or an adjustable. Sampling can be taken at will. The associating of tests, test plans and specifications is also enabled.
Stability and Compatibility Testing
The STARLIMS solution gives staff the ability to test and secure approvals for raw materials, intermediates, and finished products. This capability also allows a lab to perform stability and compatibility testing as needed.
Material and Inventory Management
The STARLIMS material manager enables the creation of material types and materials, safety information, MSDS, supplier details, and more. Even when provided by various suppliers, equivalent materials with different trade names can be grouped and chosen during creation of batches. Using the inventory manager, lots of raw materials, intermediates, and finished products can be organized in storage with descriptive information.
Reporting and Data Retrieval
STARLIMS provides report templates for labels, inventory lists, weigh-in-sheets, stability studies, test results, and more. In addition, advanced data retrieval tools can generate filtered and sorted data list overviews, as well as links to more detailed views of data collected.
Comprehensive and Compliant Data Management
Providing a comprehensive audit trail with electronic signatures at designated workflow steps, STARLIMS also offers users the flexibility to obtain and manage new attributes when necessary to meet development needs and varying local requirements. In addition, user-defined fields with numbers, dates, text, or lists are easily searchable.
Alpha Engineering LIMS Implementation
Alpha Engineering Associates, Inc. has been involved with the implementation of over 50 LIMS systems ranging in size from small, "off-the-shelf" software systems to very large, highly customized, multi-functional systems, including STARLIMS, for both governmental agencies and private enterprises. For affordable client-focused network consulting services and solutions, please call Alpha Engineering Associates today at (410) 295-9500.