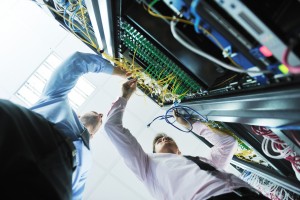 As discussed in Part 1, managing and maintaining IT infrastructure in-house will deplete a startup's resources quickly with unanticipated costs, downtime, hours of effort stolen from the actual business, and stress. Part 2 will cover Expertise, Customer Satisfaction, Security, and Scalability.
Expertise
Many startup founders are very hands on. It's tempting to try and save money by also handling the IT needs of the company. However, your venture is gaining momentum and now you're always short on time. Take the opportunity to focus on what's important and leverage the expertise of a managed services provider, who is up to date on the latest tech solutions for a business.
Customer Satisfaction
If your startup's success depends on customer satisfaction, you can negatively impact customer impressions by focusing time and resources on IT issues. The company will also be more prone to downtime without professional IT support, and being unable to provide service for an extended period of time will harm your company's reputation. By outsourcing IT, your attention will be on your customers or clients, where it belongs.
Security
Cybercriminals prefer attacking smaller businesses because they are softer targets than big corporations. This makes startups especially prone to being hacked and crippled by ransomware. Your managed services provider can help by making sure your computers are protected from viruses and malware, that software and operating systems are receiving the latest patches, and by monitoring your network for unusual activity.  In addition, your staff will get the latest information regarding cyber security.
Scalability
Excellent IT support teams can provide services that are scalable, whether your startup grows or downsizes. For slower months, you can switch to a more basic plan so you can decrease expenses. When your startup picks up momentum, the managed services provider can keep pace by providing more services allowing you to expand without missing a beat. Your startup's scaling flexibility can also be improved by transitioning to cloud solutions with their help.
Alpha Engineering Business Support
Choosing an expert computer technology-support provider is an important decision for your business. Alpha Engineering Associates has been a trusted partner of many companies in the Washington, Baltimore and Annapolis areas since 1990 and offer:
24/7 Managed Services for Business Computing Systems
Network and Mobile Computing Support
Disaster Recovery Planning
Software Development
For affordable client-focused network consulting services and solutions, please call Alpha Engineering Associates today at (410) 295-9500.