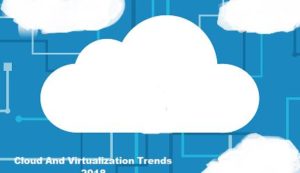 Numerous changes are sweeping the IT world in 2018, as the industry will see newer technologies gain in prominence, established ones expand in usage, and others decrease in importance. The following will discuss six cloud and virtualization trends for 2018. Consult with a managed IT services company with experience and expertise to get the best results for your business. 
HCI (Hyper-Converged Infrastructure)
Experts project that HCI expansion will go on uninterrupted for another five years. HCI products of the first generation have begun running key data center applications. What is in store for the next generation as a computing platform? Experts believe compute, network, and storage will share the same management plane. They also think these same three elements will share the same CPU and memory and achieve hyper convergence, and cloud integration will increasingly be seamless.
IoT (Internet of Things)
Vendors, including leaders Dell, Microsoft and VMware, are confident that IoT will continue to grow and eventually become a giant consumer market. IoT will monitor many aspects of our lives, from our health to the environments of our homes. Experts believe vendors will continue focusing on the improvement of the processing, managing, and storing information gathered by smart devices.
Native Cloud Apps
Designed specifically for cloud-computing architecture, a native cloud application (NCA) is designed to utilize cloud computing frameworks, which are typically loosely connected and provided by cloud services. As they do not run locally, NCAs are designed for redundancy and reliability in order to remain functioning, even when equipment fails. NCA development now includes microservices, continuous delivery, DevOps, and containers. This year will probably begin seeing consolidation among vendors as these technologies reach maturity.
Part 2 will discuss Performance Management Tools for Virtualization, Server Sales to Cloud Providers, and VMware and AWS Collaboration.
Alpha Engineering Business Support
Choosing an expert computer technology-support provider is an important decision for your business. Alpha Engineering Associates has been a trusted partner of many companies in the Washington, Baltimore and Annapolis areas since 1990 and offer:
24/7 Managed Services for Business Computing Systems
Network and Mobile Computing Support
Disaster Recovery Planning
Software Development
For affordable client-focused network consulting services and solutions, please call Alpha Engineering Associates today at (410) 295-9500.