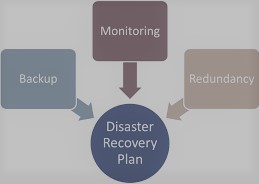 As discussed in Part 1, creating a backup and disaster recovery (DR) plan is essential for every business, but it will take much effort. One solid option is hiring an experienced IT support firm to help your company during the process, saving time and obtaining the best results. Part 2 will cover four more issues that should be avoided.
5. No Training
As data is often a company's most precious asset, management should consider making disaster recovery procedure training and DR plan testing mandatory. Staff members responsible for data will gain confidence in their decision-making should a serious problem arise. IT consultants can assist by creating and managing the training and testing programs, so management will not be distracted from their main responsibilities.
6. Budget Limitations
Many companies have limited backup and disaster recovery budgets, therefore their systems will have shortcomings. Although around-the-clock backup solutions are available, they may not be affordable for an enterprise. However, a business can still adequately protect its important data by opting for lower-cost products that may back up slower and not as frequently as more expensive products.
7. Product Incompatibility
Make sure that the backup and disaster recovery products your company licenses are compatible with your existing systems, equipment, and software. Acquire applications that do not require additional software or hardware or special adjustments. Work with an IT consultant to avoid products that are incompatible. This will save your organization both time and money by ensuring that employees are able to implement new solutions more easily and efficiently.
8. Vulnerable Data
In this era of rapidly evolving technology, we often forgot that the writing, recording, and storing of data is still a physical process. These processes occur on disks and tapes, which can be damaged or destroyed by the environment, manufacturing defects, human error, magnetization, electrical surges, and man-made or natural disasters. Data corruption or erasure may occur, so the storage of vital business data in at least three separate locations should be standard for every company's disaster recovery plan.
Alpha Engineering Business Support
Choosing an expert computer technology-support provider is an important decision for your business. Alpha Engineering Associates has been a trusted partner of many companies in the Washington, Baltimore and Annapolis areas since 1990 and offer:
24/7 Managed Services for Business Computing Systems
Disaster Recovery Planning
Software Development
For affordable client-focused network consulting services and solutions, please call Alpha Engineering Associates today at (410) 295-9500.