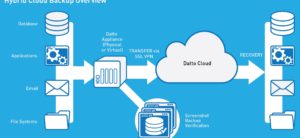 Organizations are increasingly prioritizing disaster recovery (DR) because data is often their most valuable asset. This article will discuss cloud disaster recovery trends for 2018 and how they may apply to your company. Consult with an experienced and expert managed IT services firm to get the best results.
Rapid Growth
Experts anticipate a 100% growth in cloud disaster recovery implementation among companies this year. Moreover, large organizations will use the public cloud for a greater portion of workloads. There will also be a growth in multi-cloud implementation for both production and DR. Finally, in addition to production, cloud disaster recovery will also begin to assume greater development and quality assurance (QA) workloads.
Pros & Cons
Perhaps the chief advantage of public cloud DR is its significantly lower operational costs than on-premises disaster recovery. An on-premise infrastructure, which is costly to purchase, install, store, power, maintain, upgrade, and repair is no longer necessary. Other benefits are regulatory compliance and business elasticity. DR testing can be performed as desired, and the costs will only involve the machines provisioned.
The greatest disadvantage is probably the time and effort that will be necessary for staff to become more familiar and implement DR in the public cloud. They will have to study the methods regarding management, configuration, and security that are only applicable to this environment. Comprehending how on-premises disaster recovery technology differs from that of the public cloud and how this will affect design will be challenging.
However, growing pains can be alleviated by an experienced and service-oriented managed services provider (MSP).
Durability
Choosing a high-quality public cloud provider is the key to the durability of your DR. Experts believe AWS (Amazon Web Services) is clearly the leader in this field because of their architecture, scale, and reliability. Properly evaluating a public cloud provider involves reviewing their downtime, cost, performance, and other qualities, and an expert IT consultant can help you in this task.
Part 2 will discuss Disaster Recovery Formalized Efforts, Challenges, and Planning.
Alpha Engineering Business Support
Choosing an expert computer technology-support provider is an important decision for your business. Alpha Engineering Associates has been a trusted partner of many companies in the Washington, Baltimore and Annapolis areas since 1990. For affordable client-focused network consulting services and solutions, please call Alpha Engineering Associates today at (410) 295-9500.